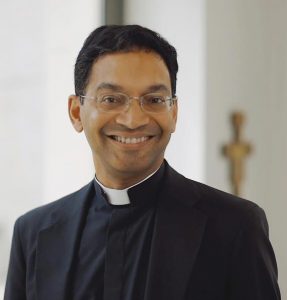 COLUMBUS – The Vatican announced Saturday, April 2, that Pope Francis has appointed the Reverend Earl K. Fernandes, a priest of the Archdiocese of Cincinnati, as the 13th Bishop of the Catholic Diocese of Columbus.
He succeeds the Most Reverend Robert J. Brennan, who was installed as the 8th Bishop of Brooklyn November 30, 2021. Father Fernandes will be ordained a bishop of the Catholic Church and installed as Bishop of Columbus Tuesday, May 31, 2022. Details about his ordination and installation will be released in the near future.
"Grateful to Almighty God and to the Blessed Virgin Mary for my vocation and recognizing my own unworthiness, I accepted, with fear and trepidation but also with joy, the appointment by Pope Francis to serve as the 13th bishop of the Diocese of Columbus," Bishop-elect Fernandes said. "I thank His Holiness, as well His Excellency Archbishop Christophe Pierre, the Apostolic Nuncio, for giving me the opportunity to proclaim the joy of the Gospel in the Diocese of Columbus, the capital of our beloved state of Ohio."
As we gratefully and joyfully welcome Bishop-elect Fernandes to our Diocese, please remember him and the Diocese of Columbus in your daily prayers as we embrace a new chapter in our spiritual renewal as faithful Catholics.