GROW IN DISCIPLESHIP: Dig deeper into the heart and habits of discipleship. Strengthen your commitment to Jesus and help others do the same.
As the Church returns to its God-given power for evangelical mission, it is returning to its God-ordained vitality. The Evangelical Catholic is honored to serve the Church in this way and to be on the front lines with the sharpest Church leaders, equipping laity for this most urgent of tasks. Immaculate Conception is so excited to be a part of Evangelical Catholic due to the generosity of a grant from the Catholic Foundation. Each week we will share exciting news on how Evangelical Catholic is equipping and changing lives in our parish.
We are grateful for all the donors who made this grant possible through The Catholic Foundation. Individuals who are passionate about the Catholic faith and want to do more can set up endowments and other funds through The Catholic Foundation for the benefit of organizations like Immaculate Conception.
To learn more about how you can set up funds to help parishes like Immaculate Conception, please reach out to The Catholic Foundation's Vice President of Grants & Community Impact, Dan Kurth, at dkurth@catholic-foundation.org or 614-443-8893.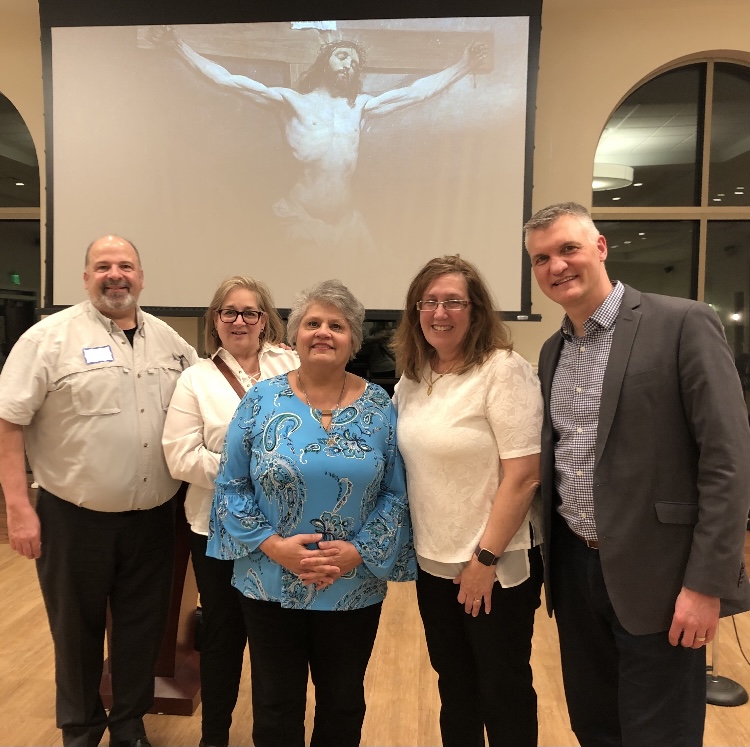 Members of the Immaculate Conception Evangelical Catholic Team were fortunate to attend an introductory meeting for Evangelical Catholic at St. Catherine's Church in Bexley. (left to right) Deacon John Green (Mission Advancement Officer for Evangelical Catholic), Brenda Andracki (IC point person), Diana Marie Winkler (IC point person), Mary Ann Rivera (IC Director of Evangelization & Faith Formation), Jason Smith (President of Evangelical Catholic).