Brothers and sisters
We are in the midst of our Annual Offertory Commitment initiative. Thank you for the 105 families that have responded.

I invite every household to recommit to this mission and prayerfully ask what you can do to help support our mission. Our world is in need of the message of the Gospel now more than ever. Saint Paul says, ' let them trust in God who provides us richly with all things for our use. Charge them to do good works and to be generous sharing what they have. Thus they will build a secure foundation for the future.' (1 Timothy 6:18-19)
I invite each one of you to prayerfully review the materials we mailed to you and provide your commitment pledge for the good work of the church today. Your financial gift is not just for the sustainability of our church, but for our renewal and growth.
I thank you for your gift of support! Please know of my continued prayers for all of you.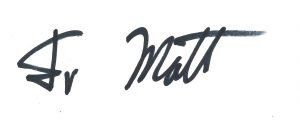 Annual Offertory Appeal
To donate, click the link below. You will be directed to our giving page. Select the "Fund" drop-down menu and click "Offertory."