Fr. Matt's Letter to the Parish
Brothers and sisters
I write to you today with many thoughts about our present times that we live, in the world and in our church. I am sure we are all aware of the recent news regarding Bishop Brennan's elevation to the diocese of Brooklyn, New York. We have been blessed by his leadership during these 2 1/2 years here in Columbus! Our diocese has begun a bold initiative in, Real Presence Real Future, to address the current and future needs of the Church here in Columbus. Meanwhile, our nation and world is still reeling from a global pandemic and striving to find a meaningful path to go forward. To say that our lives are in the midst of change is by all accounts not an overstatement!
Yet I believe strongly that these times are filled with eager expectation and hope for our future. Our first source of hope comes from knowing Jesus Christ! He who promised he would be with his church always is the one who still walks with his church today.
I write to you with much gratitude for all that this parish has accomplished these past eight years I have been blessed to be your pastor. We all know, however, a future is not paved by what we have already done, but by what we still have yet to do. The question asked of Jesus, 'what must we do to inherit eternal life?' rings again for us now. (Mk 10:17) The mission of the church of making disciples of all nations, and leading people to Jesus is still our mission today!
Today, I invite every household to recommit to this mission and prayerfully ask what you can do to help rebuild the church. Our world is in need of the message of the Gospel more than ever. Saint Paul says, 'let them trust in God who provides us richly with all things for our use. Charge them to do good works and to be generous sharing what they have. Thus, they will build a secure foundation for the future.' (1 Timothy 6:18-19)
I invite each one of you to prayerfully consider a commitment pledge for the good work of the church today. Your financial gift is not just for the sustainability of our church, but for our renewal and growth.
Already, I thank you for your gift of support! Please know of my continued prayers for all of you.
Sincerely in Christ through Mary,
Fr Matt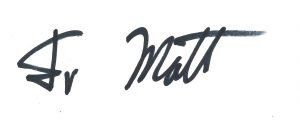 Immaculate Conception is grateful for your financial support of our parish with your contributions and annual commitments. Thank you for your generosity!