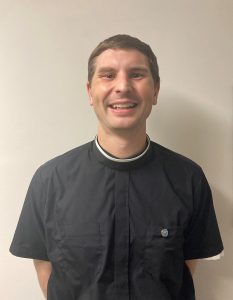 Hello! My name is Br. Zachery Feldker!
I grew up in Bloomington, Illinois before graduating with my B.A. in Biology from Carthage College in Kenosha, Wisconsin in 2015. After college, I was led to join a missionary youth retreat ministry team known as SPIRITUS in the diocese of Green Bay, WI, where I served for three years. While in Wisconsin I developed a love for cheese curds, a greater love for our Lord Jesus Christ, and met the Fathers of Mercy at the Shrine of Our Lady of Good Help. Through many prayers and asking for the intercession of our Blessed Mother, I began to speak with one of the priests at the shrine, before coming to Kentucky in the Summer of 2018 to enter with the Fathers of Mercy, professing first vows on January 1, 2020. I recently completed pre-theology studies at Mt. St. Mary's seminary in Cincinnati, OH before being transferred to the Pontifical College Josephinum in the Fall of this year to begin Theology studies. I thank God for the opportunity to serve the community here at Immaculate Conception and look forward to journeying in faith together with all involved in the family faith formation program!
May the peace of Christ reign in our Hearts!