Dear Parishioner,
As we all know, the "social distancing" practices and suspension of gathering for Mass have created unique challenges to the way we practice our faith. It is very important that all of us take the necessary steps to protect and ensure the health and well-being of our families, friends, neighbors, as well as our parish and school communities. Although we have been physically separated for much of the spring, our church is alive and still on mission.
One of the ways we participate in that mission is through the Bishop's Annual Appeal. Each year, we need to support the essential ministries and shared services of the Diocese. The impact and spread of COVID-19 pandemic has created extraordinary circumstances for our parish and Diocese.
As believers in Christ, we are inspired to follow His example to love one another. The theme of the Bishop's Annual Appeal, "Living the Joy of the Gospel," inspires us, as people of faith, to share joyfully, the Good News of Christ. Your gift will support the religious education of our children, the programs presented by the Office of Marriage and Family Life, the education of our seminarians and deacons, ministries facilitated by the Office of Social Concerns, and many other vital programs.
The overall goal for the Diocese is $6.85 million and our parish share of the Appeal is $145,851. If we exceed this goal, all excess payments received will come back to us and we will put 100% of that for our use. Our response to the Appeal is one way to share our blessings and express our gratitude for those blessings from God.
Let us pray for the success of the Bishop's Annual Appeal, and I ask each of you to participate, always remembering God's love for us. Bishop Brennan asked the Diocese to keep every parish open and every employee on staff. This extraordinary measure helped us serve our parishioners with little interruption. Now, it's our turn to support the Diocese and make good on that gift. We have two ways to donate:
I am confident that together, with everyone's participation, our parish will exceed our goal.
Sincerely yours in Christ,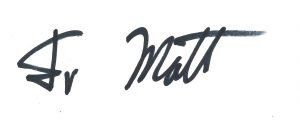 Fr. Matt